Leading courses developed by experienced industry professionals & qualified teachers

Highly experienced, qualified & skilled teachers for better learning outcomes

Range of workshops designed specifically for primary & secondary schools

Proven, effective & highly commended

Connection to the Australian School Curriculum & NAPLAN

Free your teachers time and achieve better results

Fun, engaging and age appropriate
Tailored to suit your school's needs & budget
We have a range of workshops that are designed specifically for primary & secondary schools that will suit your schools needs and budget. With a reputation built on quality, you can rest assured you are in the best hands. Super Speak is Australia's leading provider of public speaking programs. We teach our public speaking workshops in over 100 schools across Melbourne and have taught over 60,000 children across Australia since 2006.
We offer one day workshop options or more comprehensive term based options (and everything in between).
We can service schools across Melbourne in person and schools across Australia online.
Bring out the best in your students!
Request more info by calling us on (03) 9572 5249, email us info(at)superspeak.com.au, or complete an enquiry form here.
Super Fun, Super Skills, Super Speak!
Speak Stars 6 week Program
Over the course of 6 weeks, your students will develop a strong belief in themselves and become equipped with a range of communication and public speaking skills to help them achieve more in school and in their lives. There is also an option for a presentation class at the completion of the course.
If your school would prefer either a one-off workshop or a short course, there are also a wide range of other options available. These include expressive skills, persuasive speaking, speech structuring, narrative & informative speaking, running of assemblies and more.
We pride ourselves on offering high quality teachers and curriculum design, so you can relax knowing you are in the best hands.
Contact us at info(at)superspeak.com.au, call (03) 9572 5249, or leave a message on our enquiry form here.
OR CALL US FOR MORE INFO ABOUT OUR UNQIUE ONLINE PUBLIC SPEAKING COURSES – EFFECTIVE, FUN & AFFORDABLE FOR SCHOOLS ACROSS AUSTRALIA
Our Teachers
We believe in the importance of great teachers.
We have highly experienced teachers delivering our in-school workshops to ensure maximum student engagement & learning outcomes.
Our teachers are:
• Qualified school teachers that hold a university teaching degree or equivalent. This means they are skilled at teaching children and youth in a way that will achieve the best learning outcomes for the students.
• Experienced school teachers. Our teachers each have more than 15 years teaching experience
• Accredited Trinity Guildhall or AMEB Speech & Drama teachers. This means our teachers are skilled and experienced in the area of effective Public Speaking and Drama
• Registered teachers with the Victorian Institute of Teaching. This means they can work in any Victorian school, have completed all relevant police checks and are undertaking regular professional development to advance their skills.
• Experienced Victorian speech and drama & public speaking adjudicators
• Members of the SDTAV (Speech & Drama Teachers Association of Victoria)
Our incursions are designed to be fun, positive & non competitive to help achieve greater outcomes.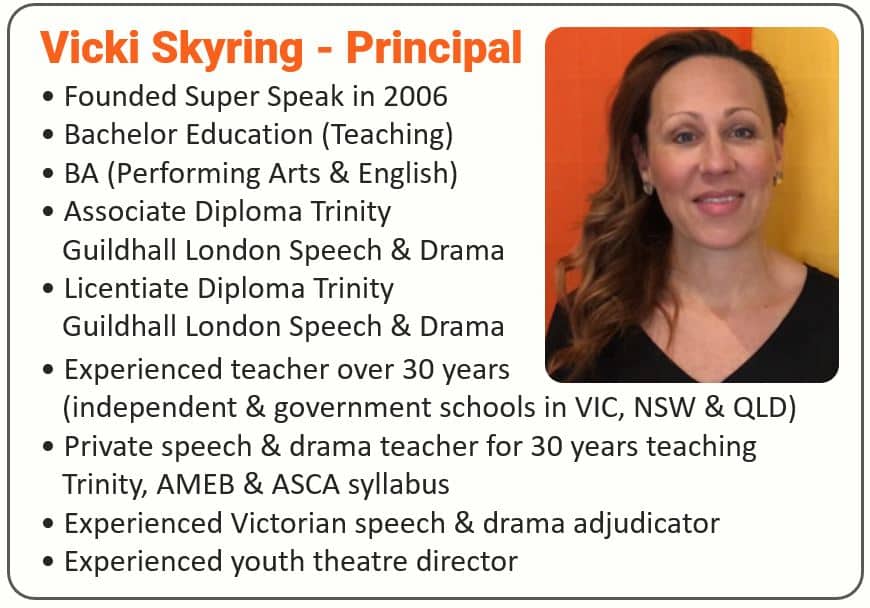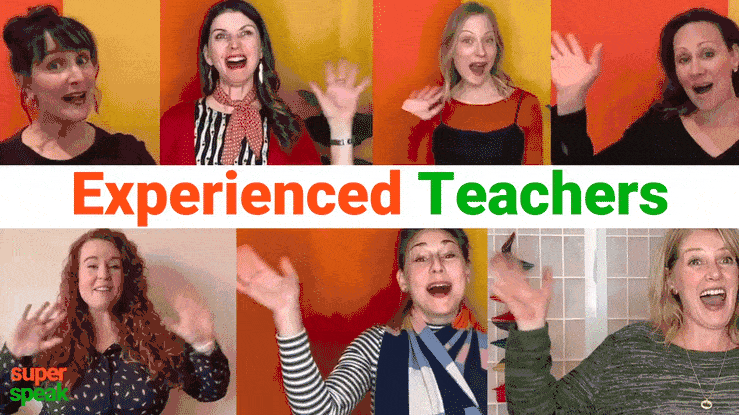 Confidence.
Communication.
Creativity.
Benefits for students:
• Self confidence & self belief
• Inspire creative thinking
• Promote expressive skills
• Build self esteem
• Learn to think on your feet
• Develop self awareness
• Improve communication skills
• Develop leadership skills
Super Fun, Super Skills, Super Speak!
Book Now: [email protected] or 03 9572 5249
What schools are saying: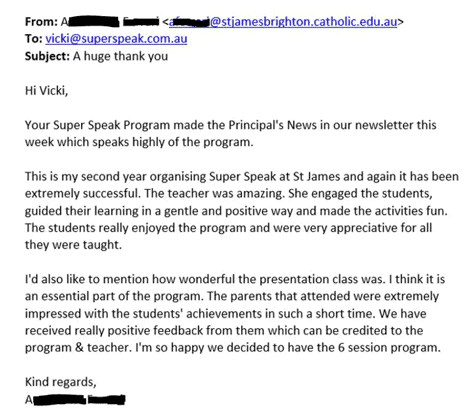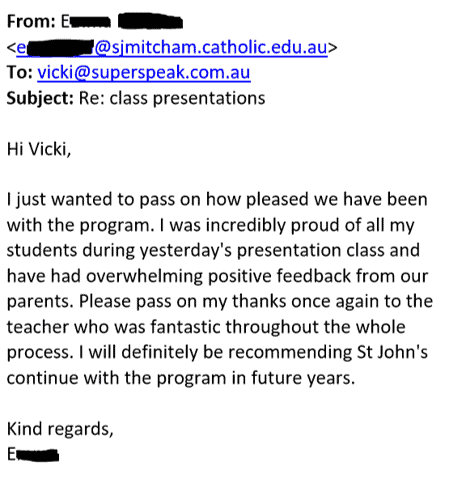 "I loved the way public speaking was made fun. I have improved a lot."
Melbourne Girls' Grammar School, student feedback
"The content was fabulous, very kid friendly. Very engaging. Brilliant!"
Kalinda Primary School, Teacher
"On behalf of all the Year 5 and 6 teachers I would just like to thank you for your inspirational workshops. I know all the teachers really felt their students got so much from your lessons. All were absolutely amazed by how many engaging activities you manage to fit into each session. Thank you for being flexible and easily fitting in around our timetables."
Ivanhoe East Primary School, Teacher
"I would just like to say a very big THANK YOU. All of the students were extremely excited and well equipped for our presentation today. They all overcame their fears and I felt did exceptionally well. I was really proud of them. The parents were also extremely pleased and were very surprised at how confident the kids were and how well they did."
Karoo Primary School, Teacher
"Children and teachers went away with great knowledge & skills. Fantastic!"
Hurstbridge Primary School, Teacher
"Excellent activities that can be integrated into the classroom. Great program and extremely beneficial. Highly recommended!"
St Mary's St Kilda East Primary School Teachers
"Entertaining, Engaging & Stimulating for students. Age appropriate and hands on – Fantastic!"
Wheelers Hill PS, Teachers
"Enthusiastic, excellent knowledge, related well to students. Great programme!"
Heany Park PS, Teachers
"Flexible so we were able to meet our oral language goals. Fabulous – thanks!"
St Mary Magdalenes, Teacher
"A positive, vibrant, engaging & enthusiastic instructor. Strategies were age appropriate and met all abilities. The course was really worthwhile."
Glen Waverley South PS, Teacher
"Great workshops that catered for the school's needs and students' needs. Excellent programme!"
Waverley Meadows PS, Teacher
Super fun, Super Skills, Super Speak!
Want to know more? Click here to request more information, call us on (03) 9572 5249, or email us at info(at)superspeak.com.au.