Our teachers are: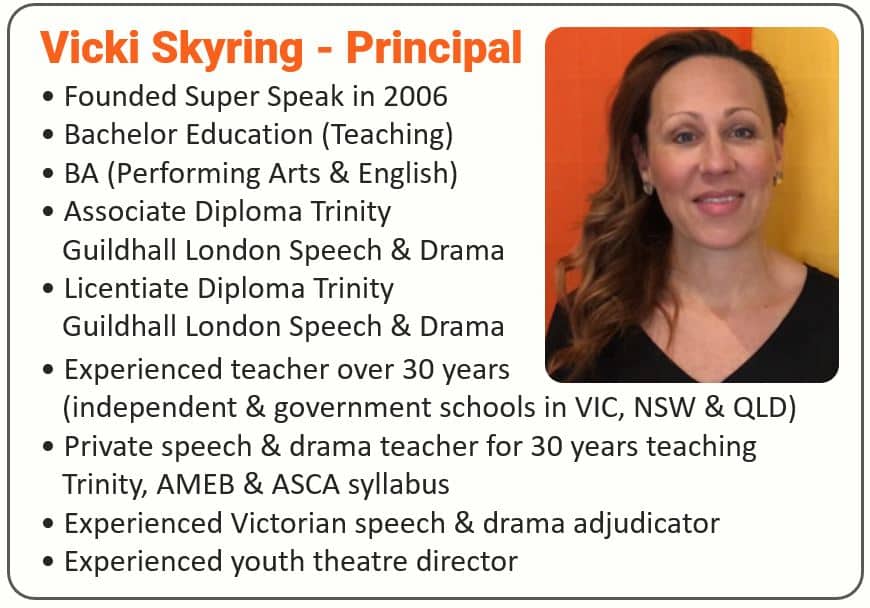 Skilled teachers, with many holding a university teaching degree or equivalent. This means they are skilled at teaching children in a way that will achieve the best learning outcomes for our students.
Experienced teachers with regular training in public speaking and drama. Our teachers are mature & experienced at teaching groups of children and are great role models for young people. The average teaching experience of our teachers is over 10 years each (over 2,500 teaching hours each), with many having had over 20 years experience (over 5,000 teaching hours each).
Confident & effective speakers. This means our teachers are effective speakers themselves and model great public speaking & communication skills to their students.
Holders of a current Victorian Institute of Teaching or WWCC card. This means they have the police checks and are permitted to work with children.
Supported: our principal (Vicki Skyring – details opposite) & area managers, who have been professional leaders with-in the industry for several decades, also attend classes during the semester to support teacher & student development.
Super Speak are known & trusted for having a highly experienced, skilled & qualified teaching team. Our principal & area managers also attend classes during the semester to support student development. All Super Speak teachers undergo a rigorous selection process, induction training and regular evaluations. Our teachers deliver the classes in a style that is motivating, challenging and enjoyable. They ensure a safe, fun and nurturing environment to bring out the best in your child.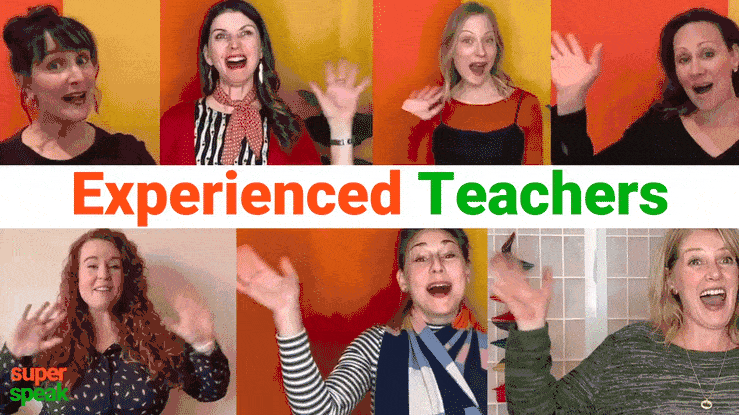 Vicki Skyring – Principal
Over 30 years experience teaching children aged 6-14
Vicki is a registered teacher with the Victorian Institute of Teaching with over 30 years teaching experience across the subjects of Drama, Speech & Drama and English. She has worked as a private speech coach, a director in youth theatres and as a teacher in schools across QLD, NSW and Victoria.
Vicki is an accredited Trinity Guildhall Speech & Drama teacher. Her interest in Speech & Drama has extended into being an adjudicator for Victorian Speech & Drama Eisteddfods and an active member of the Speech and Drama Teachers' Association of Victoria.
Vicki participates in regular professional development training to continually advance her teaching skills and knowledge. Vicki strives to ensure her teaching style and methods motivate, stimulate and challenge her students to maximise their learning experiences in a fun and enjoyable environment.
Jemma – Senior Area Manager & Teacher
Over 15 years experience teaching children aged 6-14
Having been a student of Voice, Speech and Drama since the age of 7 it was a natural progression that Jemma too would become a teacher of the same field. Throughout her time as a student she completed each grade level through Trinity Guildhall college of London. After completing her Grade 8 certification in 2003 she went on to complete her Associate of Teaching Speech and Communication Skills in 2009. Jemma is a registered member of the Speech & Drama Teachers Association of Victoria and has been an adjudicator for the Rotary Club of Richmond & Melbourne Park's annual Public Speaking Festival.
Throughout her years as a student and teacher she has had much experience both on and off speaking platforms and stages. Alongside her teaching qualifications, Jemma has also completed a Bachelor of Science in Psychology & Psychophysiology and a Certificate IV in Mental Health at Swinburne University.
Jemma believes that Speech and Drama is a valuable subject that teaches children how to clearly and confidently communicate to a variety of audiences, and equips them with essential life attributes such as effective conversation skills and quick, creative thinking.
Jemma is especially passionate about the development of confidence in her students and believes that giving children the right platform to share their thoughts, feelings and experiences through Speech & Drama aids their development of courage and self.

Alex – Area Manager & Teacher
Over 4 years experience teaching children aged 6-14
Speech, drama and acting have always been a passion for Alex. From performing in stage productions, to appearing in television series such as Hamish & Andy's True Story, Alex has never shied away from exploring and developing her creativity and vocal skills through her passion for the Creative Arts.
Alex has completed a Bachelor in Creative Arts majoring in Drama, at Deakin University. She has since gone on to explore other avenues recently finding a passion for teaching. Alex previously worked as a drama teacher in primary school settings where she enjoyed exploring creative freedom & dramatic play throughout her classes with heavy emphasis on improvisation.
Alex firmly believes in encouraging students to be the best version of themselves by having a go, and supporting each other to create a safe environment to express themselves. She believes public speaking is an integral part of a child's development and Super Speak classes are the perfect platform to explore this further by gaining confidence, making new friends and having fun along the way. Alex is a spirited, fun and enthusiastic teacher loves to see her students discover their full capabilities.
Dee – Teacher
Over 25 years experience teaching children aged 6-14
Dee has a Bachelor of Education majoring in Drama and Dance from Victoria College Rusden and a Graduate Diploma of Education in Primary Teaching from Monash University. She has  experience teaching in Melbourne and Japan, working with students aged 3 to 60. Dee has taught Drama, Dance and Movement, Performing Arts, and English as a Second Language, in primary and higher education settings.
Dee's fun and friendly style of teaching supports her students to work to the best of their potential, building their self confidence and developing effective communication skills.
Lou – Teacher
Over 20 years experience teaching children aged 6-14
From the age of twelve Lou has been involved in the dramatic arts. She is a graduate of Queensland University of Technology obtaining an Arts degree in Drama and a Graduate Diploma in Drama teaching. She has over 20 years experience teaching children aged 6-14.
Since graduation Lou has worked extensively across Australia as an arts educator and as a performer in a variety of roles. She has worked as artist in resident in many different primary and secondary schools and enjoyed bringing skills to thousands of students in acting, voice, movement and communication. Lou has also been employed as a primary and high school performing arts teacher, a teacher of circus, a children's theatre director and as an actor for theatre, screen and corporate events. Alongside her teaching, Lou is also a passionate visual artist and illustrator.
Lou firmly believes that drama and the public speaking can give young people practical tools to enhance and indeed cement confidence and self-expression. She believes that everyone has the right to be seen and heard and recognises that Super Speak classes are a wonderful platform to do just this. Her classes aim to be fun, insightful and give young people the tools in communication to aid in their development and their personal power.
Roisin – Teacher
Over 15 years experience teaching children aged 6-14
Roisin gained her BA(hons) in Performance at Mountview Academy of Theatre Arts in London. She studied Voice work under Cath Baxter, studying the Alexander Technique, vocal warm ups, accents & phonetics, public speaking including, political speeches, Shakespearian sonnets and poetry recitation. Roisin also gained her Lamda Gold qualification in both Acting and The Speaking of Verse and Prose.
Roisin has been a professional actress and was involved Theatre in Education working with the LaughingStock Co.
Roisin has had over 15 years experience teaching children aged 6-14. She has taught Voice work, Drama, Singing and Dance in various theatre schools and primary schools.
Roisin is a bubbly, fun and caring teacher who has a passion for teaching and working with children to help them realise their potential and discover their confidence.
Lucinda – Teacher
Over 30 years experience teaching children aged 6-14
Lucinda strongly believes in the power of speech and communication.
Lucinda has worked as an actor and performer both here and in the UK for over 30 years and appeared on TVs all over the world as "Melanie" in "Neighbours" from 1989-1992 and again in 2018-2022. She also spent many years in the UK where she worked in Theatre, Television and Radio. She presented the Saturday Morning Shows "Parallel 9" and "Highly Sprung" for the BBC and Voiced the Characters of "Mitzy", "Alice" and "Lolly" in Children's animated series "The Koala Brothers". She has performed in Pantomimes, Theatre Productions, Radio Plays, and worked as a workshop leader for Corporate Training. Whilst Lucinda was living in London she also worked as a Drama teacher, and Speech Specialist in various schools. Lucinda returned to Australia in 2010 and has since worked with N.I.Y.P.A.A – National Youth Choir, and runs her own kinder Drama and music programme "Bouncy Beats".
Lucinda is excited to bring her experience to Super Speak and hopes to inspire and engage her students and arm them with the communication skills they need to help them achieve their dreams.
Abbie – Teacher
Over 8 years experience teaching children aged 6-14
Abbie has an Advanced Diploma of Creative Arts (Acting) and studied Acting and Voice under Estill Master Trainer, Simon Stollery. She furthered her Acting and Voice education at Stella Adler Studio of Acting in New York City.
Abbie has had over 8 years experience teaching children aged 6-14 Drama and Voice in schools & theatre companies.
Abbie has worked for various theatre companies, including State Theatre Company of South Australia and Perform Educational Musicals, as well as having worked as a puppeteer at children's hospitals across Victoria.
Abbie is a kind and caring teacher with a teaching style that is both fun and challenging. She believes that drama can be the key to unlocking confidence in children and hopes to inspire Super Speak students to learn how to use their voices effectively. Abbie is excited to utilise her experience to give students the communication skills they need to speak publicly and enjoy doing so.
Amelia – Teacher
Over 4 years experience teaching children aged 6-14
Amelia is a director and teaching artist based in Melbourne with several years experience teaching children aged 6-14.
Amelia holds a BA in Theatre Studies and Psychology from the University of Melbourne. She has trained in Performance Making at the Western Australian Academy of Performing Arts (WAAPA) and is a recent MFA Directing graduate from NIDA.
Amelia loves fusing her passion for theatre with her passion for working with young people. She has had the pleasure of working with various Theatre Companies such as the Western Australian Youth Theatre Company, Black Swan State Theatre Company and NIDA Open.
In the classroom, Amelia cultivates a positive atmosphere and celebrates each student's unique voice. She believes that speech and drama hold the keys to effective, fulfilling communication in every sphere of life.
Kristy – Teacher
Over 8 years experience teaching children aged 6-14
Kristy has been passionate about studying Public Speaking and Drama since she was 12 years old.
She progressed through all grade levels of the Australian Music Examinations Board's Speech and Drama Syllabus and also achieved her Associate Teaching Diploma though Trinity College London, before pursuing a career in teaching.
Alongside her Bachelor of Science degree, Kristy has also completed a Master of Teaching (Early Childhood and Primary) from the University of Melbourne. She is registered with the Victorian Institute of Teaching and has experience working as a primary school teacher.
Kristy enjoys assisting students build their self-confidence and reach their full potential via Super Speak's Public Speaking and Drama curriculum. She endeavours to help students develop their communication skills and become more confident speakers regardless of age or previous experience. Her teaching style creates a fun and supportive yet challenging learning environment for all her students.
Hannah – Teacher
Over 5 years experience teaching children aged 6-14
Hannah has always had a passion for speech and drama. She started voice and performance classes at the age of seven.
She graduated from Federation University with a BA in Acting where she studied under Julianne Eveleigh learning a range of voice skills and techniques.
Hannah has worked as a professional actor, voice-over artist and a director. She has participated in many acting workshops, a number of them led by acclaimed directors here in Australia and also in London. She has also co-wrote and co-directed a theatre show that toured regional Victoria in 2017.
Throughout her time studying and working, Hannah has always been passionate about teaching vocal skills and expression. She understands the importance and the power of the human voice, and therefore is committed to ensuring that each student finds their own unique voice. She is then thrilled to see them grow in confidence and self-efficacy knowing how beneficial this will be for all their future endeavours. Hannah is a bubbly, enthusiastic, and encouraging teacher who gains great satisfaction from seeing her students progress and discover their full potential.
Confidence.
Communication.
Creativity.
"It has given her confidence and a wonderful way of expressing herself"

"I love it! It is so much fun. I want to Super Speak every day!"

"He gets such positive energy from each class."

"I am much more confident in speaking in front of people."

"She has started taking on leadership roles at school which she never did before."

"It is hands down the most worthwhile & best quality activity Eve has done."

"The program is fantastic. I am so glad that he is a part of this experience."