Join Us & See The Difference!
Leading curriculum: developed over 25 years by experienced industry leaders & qualified teachers🏆
Progressive Learning Plan™: connects to the Australian school curriculum & Naplan. Students continue learning new skills over the years with us🙌
Great teachers: learn from some of Australia's most experienced & skilled educators & teachers 👩‍🏫
Trusted & Experienced: proven, effective & highly commended by over 50,000 students since 2006 💗
Better learning outcomes: public speaking PLUS broader communication skills for everyday 📈
Great culture: fun, energetic & supportive. All levels of confidence & abilities welcome 🤗
Strong industry affiliations: with reputable speech & drama examination boards 🏫
Student resources: course materials provided to support learning at home 📖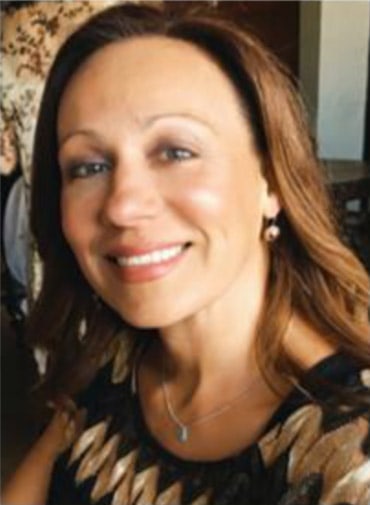 Vicki Skyring - Principal
B Ed (Teaching)

BA (Performing Arts & English)

Licentiate Diploma Speech & Drama Trinity Guildhall

Experienced teacher for 25 years

Private speech & drama coach 25 yrs (Trinity, AMEB & ASCA syllabus)

Experienced Victorian speech & drama adjudicator

Experienced youth theatre director
What are the benefits?
Learn structured public speaking skills

Speak with greater clarity & expression

Communicate with confidence & purpose

Develop confidence & self esteem

Build creativity & quick thinking

Build self awareness & leadership skills

Learn practical performance skills

Overcome nervousness & build assertiveness

Speak Well, Perform & Achieve!
 Opportunities to present & perform throughout the year.
VENUES & TIMES
DATES & FEES & FAQS
⭐ Join any time of the year ⭐
⭐ All skill levels welcome ⭐
⭐ No experience necessary ⭐
Super Fun, Super Skills, Super Speak. Call 03 9572 5249
VENUES: Altona Meadows, Ashburton, Burwood, Canterbury, Chadstone, Doncaster, Essendon, Glen Waverley, Thornbury, Ivanhoe, Balwyn North & Rowville… more to come!
💻 ONLINE OPTIONS ALSO AVAILABLE 👉Learn More HERE
Join Our Email List for free tips & our latest news
Learn from great teachers
Our amazing teachers set us apart.
Our teachers are experienced and skilled at teaching children and are great role models for young people.
Our curriculum has been developed by a team of qualified teachers and industry leaders over a period of 25 years.
You can rest assured that your child is in the best hands.
Prefer online? We have that well covered too 🙌.
👉Check out more about our awesome ONLINE courses here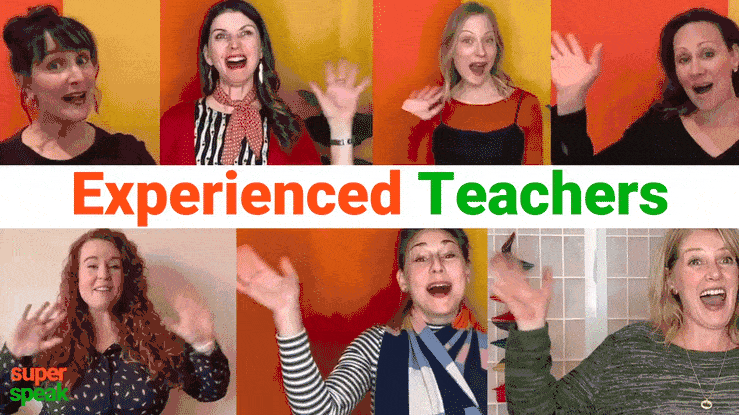 COVID Safe Practices
The health, safety & well-being of the Super Speak community is our highest priority. We continue to follow the latest government & state health advice.
Vaccinated staff: all teachers & staff are fully vaccinated
Hand sanitiser: provided before class to each student where possible
Regular cleaning of class room
Confidence.
Communication.
Creativity.
"It has given her confidence and a wonderful way of expressing herself"

"I love it! It is so much fun. I want to Super Speak every day!"

"He gets such positive energy from each class."

"I am much more confident in speaking in front of people."

"She has started taking on leadership roles at school which she never did before."

"It is hands down the most worthwhile & best quality activity Eve has done."

"The program is fantastic. I am so glad that he is a part of this experience."
Super Speak Wins
3AW Business Award
🏆 3AW Business Awards - Super Speak
We would like to thank 3AW & Momentum Energy for recognising Super Speak as the winner of the Small Business Success Awards.
3AW recognised Super Speak for offering "an innovative approach to educating young people & helping them become more confident."
We were thrilled to have the opportunity to speak with Denis Walter on air about how Super Speak helps children aged 6 – 14 learn practical skills for life – no matter what their confidence level is.
The value of great communication skills:
We were thrilled to receive this news from a parent about the achievement of some of our Super Speak students. For privacy reasons we have removed their names.
"Hello Super Speak, Just a quick note to tell you some exciting news. <Child 1> and <Child 2> are the School Captains. <Child 3> is one of the two Sports Captains. <Child 4> and <Child 5> are house captains. So all 5 of these Super Speakers have done very well in our school! To get a captain role the kids had to speak in front of all Grade 5's and their teachers, the assistant Principal & Principal. Then for those kids that were shortlisted for School Captain, they had to be interviewed by the Principal."
This is testament to the value of strong communication skills! These students have been in our program for over 2 years and will be great leaders for their school.
🧡𝗕𝗼𝗼𝘀𝘁 𝘆𝗼𝘂𝗿 𝗰𝗵𝗶𝗹𝗱❜𝘀 𝗰𝗼𝗺𝗺𝘂𝗻𝗶𝗰𝗮𝘁𝗶𝗼𝗻 𝘀𝗸𝗶𝗹𝗹𝘀 𝗳𝗼𝗿 𝗹𝗶𝗳𝗲 with Super Speak💚
Super Speak is Australia's leading provider of public speaking & communication skills to children.
Our holistic program has been developed by leading Australian educators and places a unique focus on both structured public speaking skills 𝗣𝗟𝗨𝗦 a much wider range of practical communication skills your child can use EVERY DAY.
Our program has been proven to deliver broader learning outcomes for our students, whilst being loads of fun & dynamic in nature!
𝗦𝗽𝗲𝗮𝗸 𝗪𝗲𝗹𝗹. 𝗣𝗲𝗿𝗳𝗼𝗿𝗺. 𝗔𝗰𝗵𝗶𝗲𝘃𝗲.🙌
🗣 What people are saying: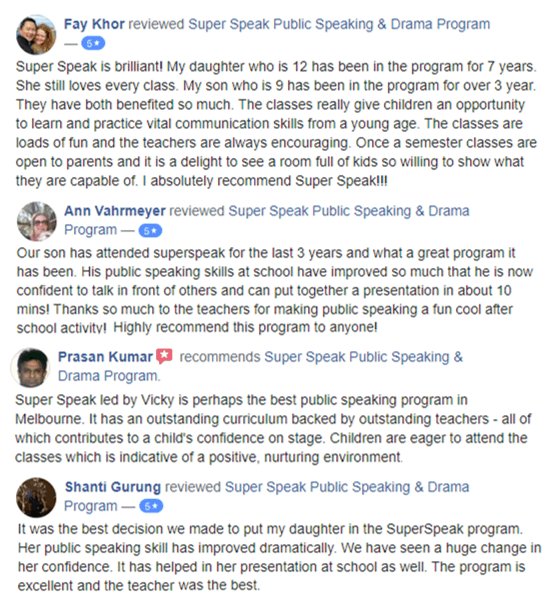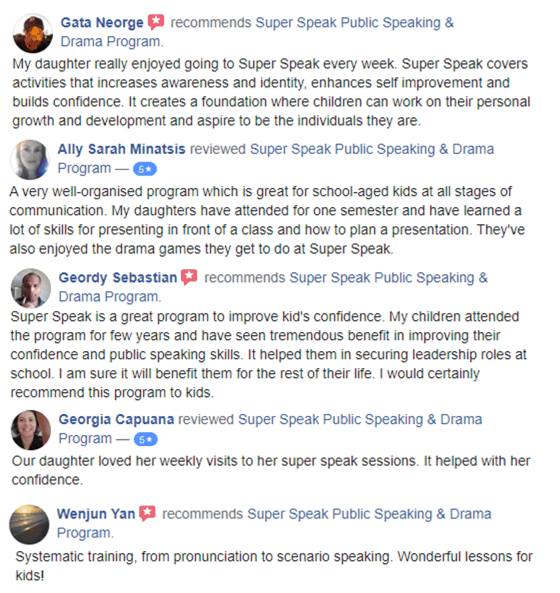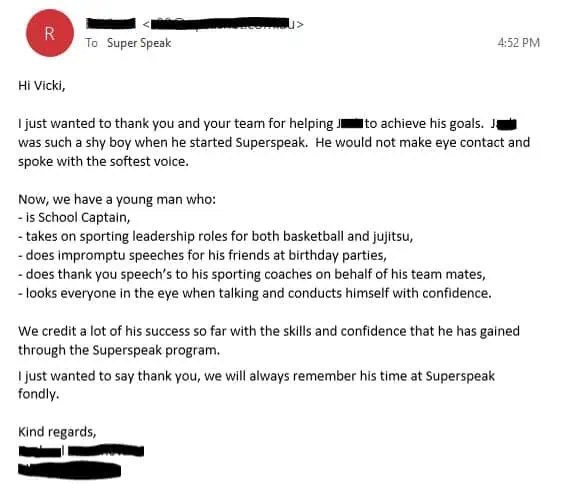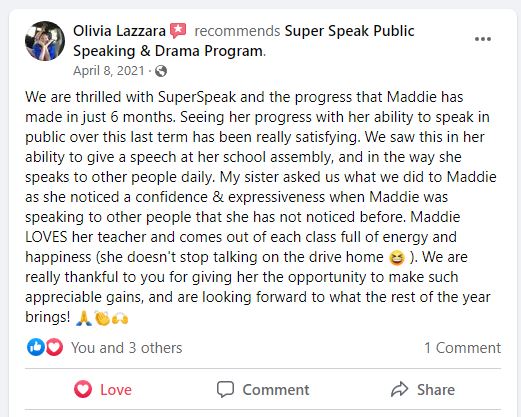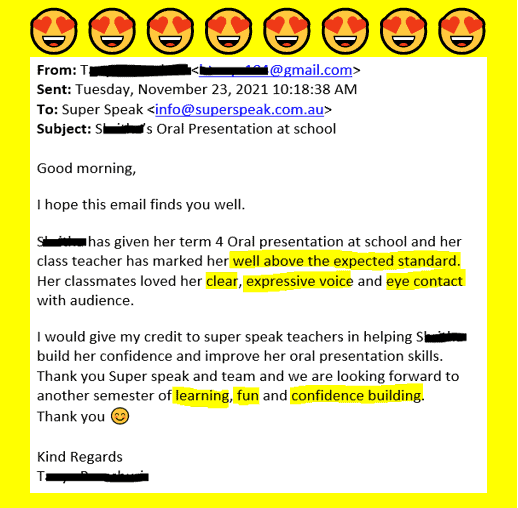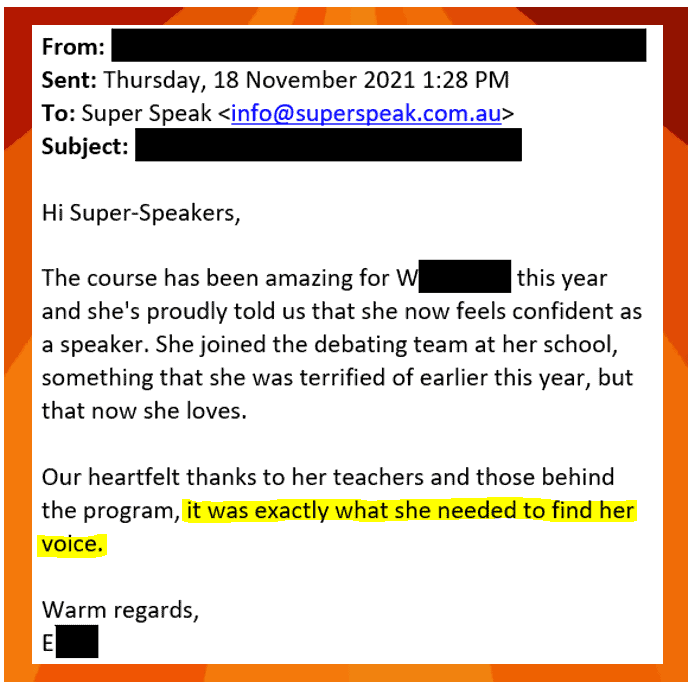 "I just want to thank you because I recently got a spot on our school year six leadership team and we had to do a speech and it went really well thanks to 2 years with super speak!!! Thank you for your help!!!" Student, Chadstone
"He looks forward to every session and comes home so excited. He gets such positive energy from every session which carries over into other areas of his life – such as social interactions and sporting activities." Justine Mackey, Kew, Parent
"I have seen both my children develop in confidence – most of all, they have fun and are growing." Simone Curtin, Camberwell, Parent
"She has LOVED Super Speak since her very first class & we have seen such improvements in her confidence & speech. Before Super Speak she would not have been able to stand/present in front of a group of adults and I was so proud of her on Saturday. Your teachers are wonderful & engaging & the program works! Thanks so much. I'm excited by the improvements that she is making and how she continues to enjoy the class week after week." Louise, Moonee Ponds, Parent
"Over the time that my daughter has attended Super Speak, I have seen her confidence and skills in public speaking develop. These skills have transferred to her reading and performing in public as well as planning and writing a speech. Andreana has loved the teachers that she has had and they have challenged her and developed her and are an absolute credit to your team. A BIG Thank you!" Simone, Parent
"We have noticed a vast improvement in the way he speaks and articulates his opinions and shares his thoughts and ideas with friends, family and at school." Alanna, Bentleigh, Parent
"Let me take this opportunity to commend your organisation's professionalism that has been clearly evident since day one. The programme is fantastic. I am so glad that he is a part of this experience." Richard, Glen Waverley, Parent
"Super Speak has contributed immensely to the positive development of our 7 year daughter Joanne. We could see the positive impact it had on our child during the year. When Joanne started Super speak she was a bit on the shy side but one year into the program she has emerged as a confident speaker with a clear understanding of the nuances involved in public speaking. The teachers are fantastic, the venues appropriate, as well are the parent sessions. I would highly recommend Super Speak to any parent/child anytime." Anil, Parent, Hillside
"I'm very grateful to SuperSpeak for teaching me skills that I used to help become the Toys R Us Chief Toy Tester. After 6 years at Super Speak, I still look forward to every class because I know I will learn something new or get to practice what I have already been taught." Alanah Khor, Glen Waverley, Student.
"It was so fantastic to see what the kids have been working on and I have been so impressed at the things they have been learning. They have got so much more out of this program than any other drama class she has done." Sarah, Chadstone, Parent
"…thank you for all your positive support & encouragement in helping with her public speaking and self esteem. Keep up the great work….Super Speak is making a real difference in her life – so thank you.." Kathy, Brighton, Parent
"He was already confident but Super Speak has helped him structure his thoughts when speaking. His school teacher commented at our last parent teacher interview how his speaking has really improved. We have also noticed he adds much more expression at his night time reading when reading aloud to us. We are convinced it is a result from what he is learning at Super Speak. We cannot recommend this program highly enough!" Jeremy, Canterbury, Parent
"I really love the program and congratulate you for the creativity and professionalism you bring. It is hands down the most worthwhile and best quality activity Eve has ever done. Thank you again!" Hannah, Glen Iris, Parent
"Thank you so much for your wonderful support this year. Your generosity of time and your passion for your craft is a standout for me. Thank you for taking an interest in our son and working with me to expand his 'life skills' base. I am truly grateful." Jenny, Canterbury, Parent
"Thank you for creating an accepting environment that allowed our son to be himself and interact with other children freely. I think this helped with improving his self-esteem and demonstrated alternative to school environment. I know it is not easy and I am glad we found such a professional programme who can bring the best in children." Stacey, Mt Waverley, Parent
"She has started taking on leadership roles at school" Rohan, Ashburton, Parent
"It has given her confidence and a wonderful way of expressing herself" Michael Stamford, Glen Iris, Parent
"The content was fabulous, very kid friendly. Very Engaging. Brilliant!!" Kalinda Primary School, Teachers
"I was scared before but I feel better about speaking up now" Ellie, Malvern East, 7 yr old student
"Entertaining, engaging, stimulating for students. Age appropriate and hands on – Fantastic!" Wheelers Hill Primary School, Teachers
"She absolutely loves super speak and cannot wait for Monday's to roll around :)" Elise, Rowville, Parent
"I really enjoyed watching all those children perform. I also had a feeling that, all of those little minds will grow up to be wonderful human beings with great communications skills one day." Riz, Lysterfield, Parent