Public Speaking and Speech & Drama private coaching in Melbourne
Our Public Speaking and Speech & Drama private classes (one student to one teacher) in Melbourne extends to people of all ages and offers an option that is tailored to your individual needs.
We specialise in teaching skills across the subjects of Public Speaking, Speech & Drama and Drama in Melbourne.
Speech & Drama lessons offer a wide range of benefits and helps with verbal and non-verbal communication, self-expression, speaking in public and gaining better self-awareness and self-confidence.
No prior experience is required. Join any time of the year.
Examination and Eisteddfod preparation is also available. Students have the opportunity to enter in either Trinity Guildhall or ASCA examinations.
We can provide individual lessons for children from age 6 through to adults that can help with professional and personal development.
Our private coach for public speaking is Vicki Skyring.
Vicki has spent the last 30 years working with people of all ages to improve their public speaking skills and is the founder & principal of Super Speak – Australia's most trusted provider of public speaking programs for kids. Vicki will work with you to help you achieve your objectives.
Lessons take place in Malvern East & on Zoom by appointment only.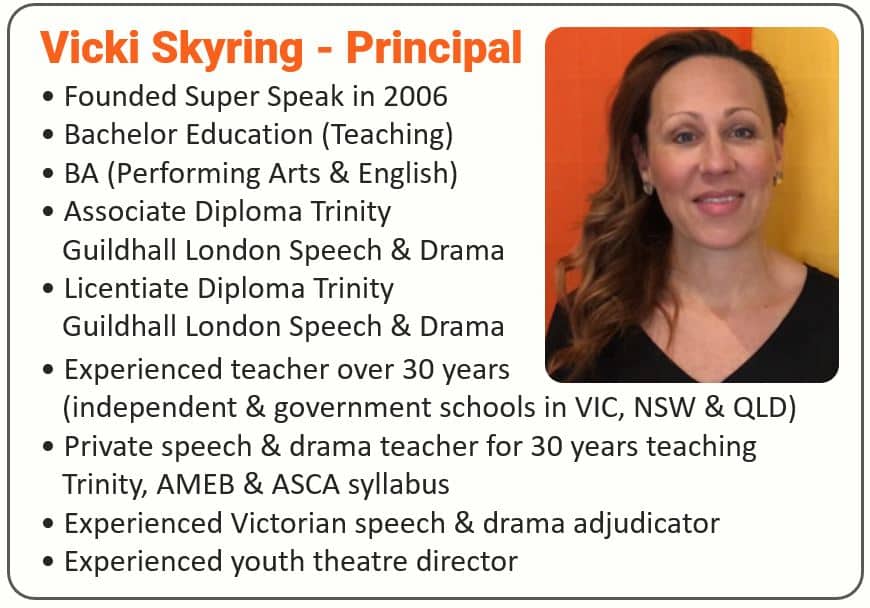 Want to know more?
For more information, please call us on (03) 9572 5249, or email us at info(at)superspeak.com.au.
"It has given her confidence and a wonderful way of expressing herself"

"I love it! It is so much fun. I want to Super Speak every day!"

"He gets such positive energy from each class."

"I am much more confident in speaking in front of people."

"She has started taking on leadership roles at school which she never did before."

"It is hands down the most worthwhile & best quality activity Eve has done."

"The program is fantastic. I am so glad that he is a part of this experience."