If you are looking for the best drama classes in Melbourne for your child, here are 3 things every parent should consider when trying to find the best Melbourne drama classes.
1. Who has designed the drama classes?
Look for a program designed by qualified school teachers with at least a bachelor in education. So you should ask questions like: "What teaching experience do they have?" and "Are they registered and recognised teachers with the Victorian Institute of Teaching?"
Super Speak is designed by a team of experienced teachers who are lead by Vicki Skyring – details below. Vicki has owned Super Speak since 2006 and has taught the program in over 100 Melbourne independent & public schools.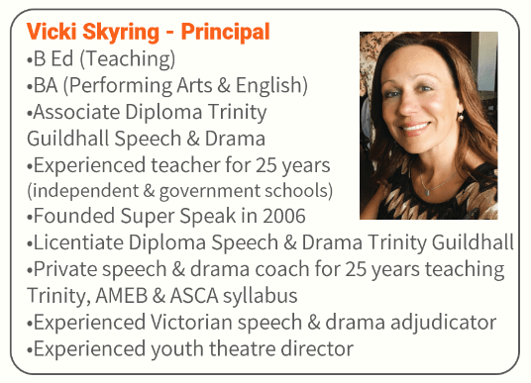 2. What is the primary focus and specialty of the drama classes?
Pay close attention to what the program focuses on and specialises in and make sure that aligns with what you are looking for. For example:
some programs are geared towards singing, acting and dancing. Whilst others are more geared towards teaching speech and drama.
some programs focus on developing children talents for the stage or for TV. Whilst other focus on developing more practical skills for everyday needs such as speech and drama.
some programs spend a lot of their time rehearsing for an end of year concerts or shows. Whilst others spend less time rehearsing and more time doing & learning.
Many programs state that they do everything for everyone. Do your research and you will soon understand what each programs' primary focus is and whether that aligns to your needs.
 3. Are the classes fun and educational?
When a child has fun, their learning outcomes are often greater. You can get a feel for a program by looking at their website, speaking to their principal or having your child attending a class to see for themselves.
At Super Speak we pride ourselves in offering the leading drama classes in Melbourne. We help our students build confidence, communication skills and creativity by offering the highest quality curriculum, highly qualified and skilled and a supportive & fun learning environment. Our smaller class sizes and safe learning environment helps our students blossom more over time and learn practical skills that last a lifetime.
For more info about our Melbourne drama classes, email info@superspeak.com.au or phone 03 9572 5249